As part of their book club, CHD's Court Appointed Special Advocates (CASA) of Hampden County recently held a virtual event to discuss their latest read, Continental Divide by Alex Myers, with a special presentation by the author himself.
Comprising CASA staff and volunteer advocates, the book club focuses on texts that center on or help inform the program's advocacy for those they serve. Launched by Volunteer Advocate Stefany Schaefer in spring 2020, the book club has been a welcome virtual gathering spot for volunteers and staff to read and discuss these important books together, and stay connected despite ongoing social distancing.
"Covering issues found in CASA cases, the books have afforded opportunities for CASA staff and volunteers to discuss topics of permanency, trauma, sexual abuse, and gender identity," said Lindsay Osborn, who serves as CASA's Coordinator of Volunteers. "They have also helped advocates to develop their relationships with each other and staff during the isolation COVID-19 has imposed."
An award-winning author, teacher, and speaker, Myers is also recognized as the first openly transgender student at Phillips Exeter Academy and Harvard University. In addition to his writing and career as an educator, Myers also serves as a transgender advocate and consults with schools across the country on topics of gender identity and inclusion.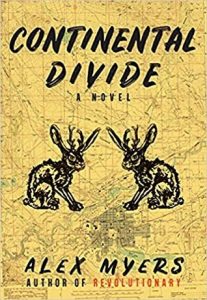 Author of two other published novels, Revolutionary and The Story of Silence, Myers has also published dozens of essays on gender identity, one of the central topics Myers focused on during his talk.
During the discussion, Myers shared an array of resources and further reading materials. One such resource was a diagram on the intersections of gender identity, gender expression, biological sex, romantic attraction and sexual attraction.
In tandem with the discussion on Continental Divide, Myers spoke on a variety of topics, including how to advise and support parents and guardians of trans kids, especially on how they can be heroes in their support of their children even if they (parents) struggle to understand at first.
Myers also discussed fluidity of gender identification as well as the ways vocabulary in reference to trans people has evolved through the years, veering away from the outdated and offensive to contemporary and inclusive—and the importance of understanding such.
Learn more about Myers. Or, click here to learn more about CASA, including how you can become involved as a volunteer.